Achieve more with CrazyGecko
Explore the possibilities of an effective Email Marketing.
Thanks to our solutions You can create an effective mailing in a very simple way.
Contact
Benefits and strategy
Increase of sales, income and customer confidence
Email marketing is one of the most effective source of communication with the present and potential customers. The majority of the society have electronic mail and their first and last activity during the day is to check it.
Optimal budget planning
Thanks to explicit statistics You can easily check how effective is Your mailing campaign and then plan Your future budget.
Effective and automated work
Among our solutions aimed to optimize Your work You will find:
- Email creator which has a base of 130 professional templates.
- WYSIWYG is an editor which creates mailing campaigns from scratch.
- Email personalization consists of unlimited and free email hosting.
- Automatic unsubscribe process.
- Automatic support of bounced emails.
- Avoiding anti-spam filters is an analysis of emails for key words characteristic for spam.
The possibility of conducting advanced mailing campaigns
CrazyGecko allows to conduct comparative tests by which You will learn which of Your campaigns is the most effective. Autoresponder will allow You to send an occasional promotional emails. Administrate accounts when subscribers open Your emails or they perform actions.
Intuitive support of developed address databases
You have the possibility of filtering contacts and pin them to individual groups based on information about location or interests. What is more, You can use large groups of contacts from Your list. Thanks to this function, You can delete the contacts completely or You can mark them as unsubscribed with the aim of not to receive any new messages.
We enable automatic registration of completed actions
The planned sending function will enable You to quickly send emails or plan their sending at a later date. We also enable easy mailing campaigns to multiple recipients at the same time. Duplicated email will be automatically deleted before sending.
Own domain and dedicated IP address
Thanks to the IP address and Your own domain the effectiveness of Your email marketing actions depends only on the quality of Your databases and sent messages.
Developed API and integration with Google Calendar and Google Analytics.
Reliable XML API can be used to add and remove contacts on the list and also to recover and update details of these contacts. CrazyGecko fully supports Your Google Calendar. You can easily add reminders or edit them just by clicking the option "add to Google Calendar", right next to every field with date. During sending mailing campaigns, You can write detailed information in Google Analytics and referential code will be added to all of the links in Your mail. You will have a full control of the number of visits and You will check the e-commerce conversion for these campaigns.
SPF, DKIM, rDNS configuration
Email configuration eliminates threats like impersonating mail recipient, obtaining personal data or money by false pretences.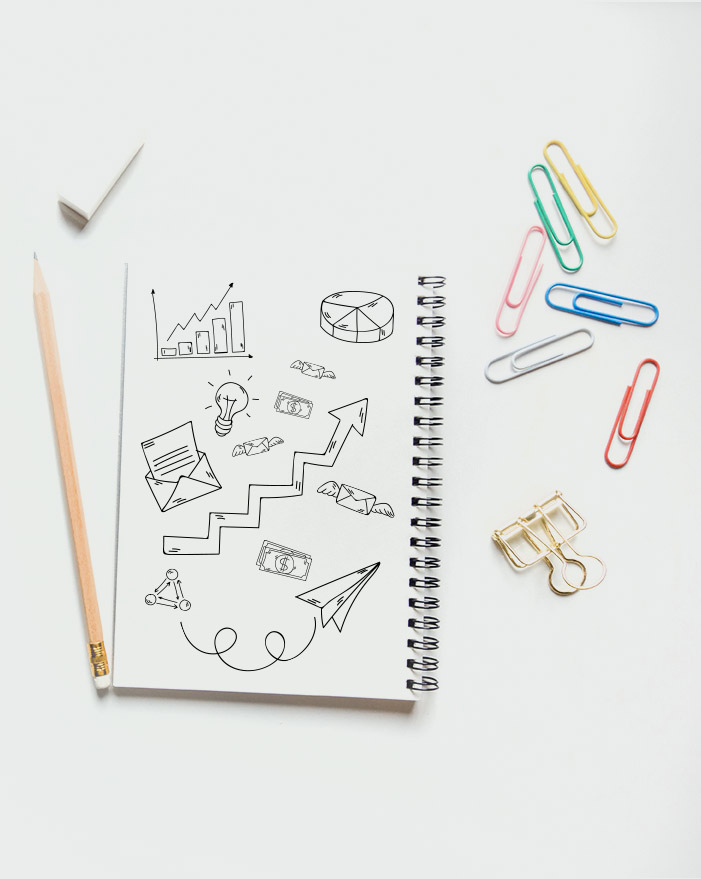 Start building Your greatest value
01.
Create and manage unlimited amount of contact lists without any restrictions and contact limits
02.
Use inbuilt Mini CRM function which enables You to have full control over possessed records and planning tasks for them
03.
Extract new contacts thanks to Your websites integration with systemic forms and create them in a very simple way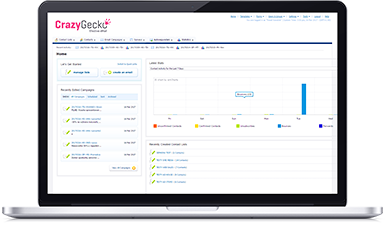 04.
Access thoroughly selected groups of recipients using segmentation based on all the key results
05.
Classify and assign additional information about Your subscribers by the possibility of creating unlimited number of additional fields
06.
Specify Your subscribers preferences thanks to surveys and forms created due to "drag and drop" method
A few simple steps that will increase Your effectiveness

Create Your email or use over 130 templates by means of Intuitive Template Editor

Build relationships with customers by personalizing emails and increase Your effectiveness using static and dynamic content

Check Your creation for anti-spam filters and correct display in different email programs

Use the possibility of creating advanced segments and unlimited additional fields in order to optimal matching of groups of your recipients

Increase recipients loyalty with the potential offered by the autoresponder and triggers, matching actions to the reaction or events of Your recipients

Deskill the test process of several advertisements and let CrazyGecko measure their effectiveness and realize the best option

Create several creations and conduct automatic tests of their effectiveness and users interactions
Ensure your success always and everywhere
Accurate statistics
Increase Your success analyzing an accurate statistics for openings, clicks, entries and bouncing

Integration and analysis
Minimize Your costs using integration with Google Analytics so You can analyze conversion, income per email and the whole sales process

Archive and action history
Re-enter Your statistic data from previous sendings any time by archiving Your activities including RSS feeds

Your database is precious
Create a plan to optimize results due to current sources analysis and email campaigns influence on the other communication channels with the customer

Planning and optimization
Create a plan to optimize results due to current sources analysis and email campaigns influence on the other communication channels with the customer
Additionally use
Optimization sending time
Moving subscribers to any lists as a result of taken actions
Link usage "Send to a friend"
An effective management of data
An extended A/B um tests
Use our experience
Wybierz pakiet dla siebie i zacznij docierać do Klientów
Wielkość wysyłek
Jeżeli przeprowadzasz kampanię mailowej części więcej niż 15 razy w ciągu miesiąca posiadasz bazy mailowe większe niż 100 000 adresów lub chcesz płacić jedynie za efekty ten plan jest dla Ciebie
Wysyłasz dziennie?
Ile razy dziennie wysyłasz mailing?
Wysyłasz miesięcznie?
Ile razy w miesiącu wysyłasz mailing?
Stawka za każde wysłane 1000 maili
Wycena indywidualna
0
zł
Szacunkowa płatność miesięczna
Pakiet Wydawcy
Oferta skierowana do wydawców lub osób posiadających potwierdzone bazy danych oraz otwartych na współpracę. Warunkiem koniecznym jest posiadanie potwierdzonej i utrwalonej zgody obejmującej adres IP, datę zapisu oraz źródło.
Czy istnieje możliwość monetyzacji Twojej bazy?
Częstotliwość wysyłek jakie możemy zrobić na Twoją bazę danych.
Stawka za każde wysłane 1000 maili po odliczeniu bezpłatnych wiadomości
W ramach współpracy otrzymujesz:
200
Wycena indywidualna
Bezpłatnych wiadomości
Bez Abonamentu
Wiedza
Szkolenia, webinary, baza wiedzy
0

zł

Wycena indywidualna
Za każde 1000 wysłanych maili
395

zł netto
Minimalny abonament miesięczny
Zmonetyzuj swoją bazę danych, a otrzymasz darmowe wysyłki
Wielkość bazy
Niezależnie od ilości rekordów jakie posiadasz płacisz stały abonament bez limitu ilości realizowanych kampanii. W jego ramach otrzymujesz możliwość wysłania piętnastokrotność maili jakie posiadasz.
Maksymalna ilość wysłanych maili w abonamencie miesięcznym
*Abonament obejmuje wysyłke w ilości 15sto krotności rekordów w bazie
Wycena indywidualna
0
zł
Abonament miesięczny*